​
Don't Have the App?
No Problem! Once you've enrolled in our Online Banking you can download our App to your smartphone or tablet right from Google Play or the App Store.
---
Downloading the App
Go to Google Play or the App Store on your smartphone or tablet and search for [ Security Bank, Laurel ] to find and install our app. Or simply click the appropriate link below.
Activating Your Installed App
To activate your Mobile Banking once installed to your device:
1.) Enter your current Online Banking Access ID
2.) Answer one of your unique Security Questions
3.) Enter your Online Banking Password
Need Help Installing the App?
Watch a quick video to learn more...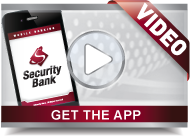 ​
Additional Conveniences & Benefits
---